The History of the Company
In 1403 the Mayor and Aldermen of the City of London approved the formation of a fraternity or Guild of Stationers (booksellers who copied and sold manuscript books and writing materials and limners who decorated and illustrated them). By the early 16th century printers had joined the Stationers' Company and by the mid-century had more or less ousted the manuscript trade. In 1557 the Guild received its Royal Charter and they became a livery company, numbered 47 in precedence.
The Charter gave the Company the right to search for and seize illicit or pirated works. All new titles were entered into series of 'entry books of copies' which became known as the Stationers' Company Registers. Company ordinances of 1562 provided that members had to both obtain from the Wardens a licence to print any work not protected by Royal Grant and enter that licence in the Company's register. The Stationers' Register became the written record to which disputes regarding the ownership of copy could be referred. Succeeding copyright legislation confirmed Stationers' Hall as the place where the right to copy should be entered. Compulsory registration finally terminated in 1923.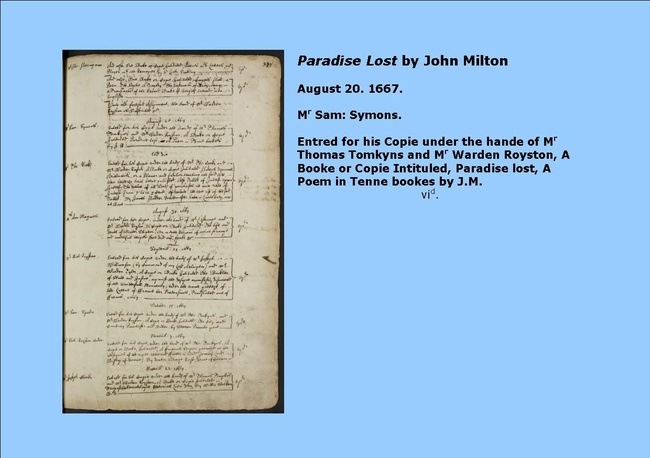 The Entry of Milton's Paradise Lost in the Stationers' Register
In 1603, the Company was granted a royal patent to form a joint-stock publishing company funded by shares held by members of the Company. Its most profitable patent was for Almanacks in the English language, including the famous or Old Moore. The Stock was intended to be partly charitable, providing work for the many unemployed printers, and the first £200 p.a. of profit was to be distributed in pensions to the Company's poor.
Sir Thomas Davies, Pepys's bookseller was the first 'Stationer' Lord Mayor in 1676, had to translate to the Clothworkers. Since then Stationers have held the office a record twenty-eight times.
The Stationers' Company's School opened in Bolt Court, Fleet Street in 1861, but soon outgrew its premises and in 1894 moved to Hornsey in north London in 1894. It closed in 1983 to be replaced 30 years later by the Stationers' Academy.
In 1931 the newly founded Company of Newspaper Makers was incorporated into the Stationers' Company.
The City of London is one of the world's leading international financial centres. As head of the City of London Corporation, which provides business and local government services to the City, the Lord Mayor of London's principal role today is an ambassador for all UK-based financial and professional services. The Lord Mayor of London is not the Mayor of (Greater) London.
For the year 2021-2022 the Lord Mayor of the City of London is Alderman Vincent Keaveny (who happens also to be a Liveryman of the Stationers' Company) seen here with the Master at the Stationers' Civic Dinner which was held at Mansion House.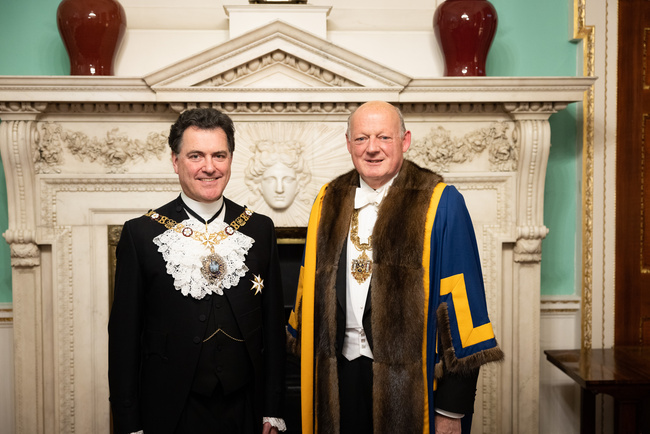 You can read Alderman Vincent Keaveny's biography here.