It was a double joy to have Jessica Morgan, one of the Evening Standard apprentices (another scheme which the Company supports) cover the event and write a piece which can be accessed here Eltham school opens digital media suite "to rival" London's Silicon Roundabout
"A London academy has unveiled a new state-of-the-art multimedia digital centre to give pupils a chance to hone their creative skills. Stationers' Crown Woods Academy today celebrated the new addition with an opening ceremony showcasing the students' work. The south London school joined forces with The Stationers' Livery Company to convert classrooms into a digital media hub rivalling the capital's newsrooms and digital media companies."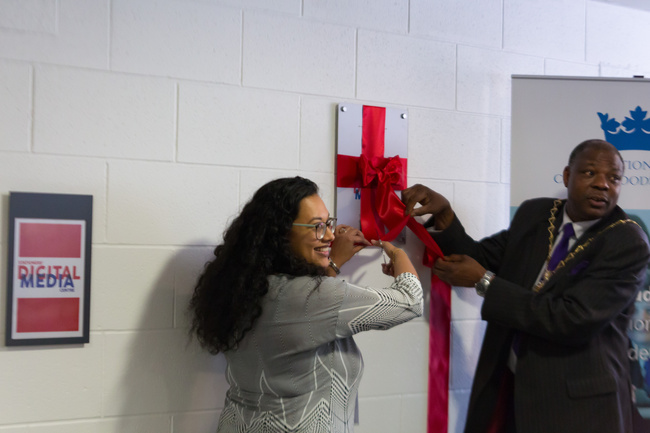 Amali de Alwis and Mayor Olu Babatola unveil the commemorative plaque (photo by Robert Pocknall)
Greenwich Mayor Olu Babatola and Amali de Alwis, Chief Executive of Code First: Girls, opened the £500,000 project, which took two years to complete. Ms de Alwis met students working on their projects and urged them to "take advantage" of the facilities.