The Company of Newspaper Makers was incorporated in 1929, and received its Charter in 1933. Its first Master was the influential journalist and newspaper editor, R. D. Blumenfeld, renowned for his thirty-year leadership of the Daily Express. After initial attemts to find common ground with the Stationers' Company failed, the Newspaper Makers' Company decided to estalish itself with the construction of its own Hall. A brochure documenting the constitution of the Newspaper Makers Company is held our Archive. The cover shows a proposed design for the new hall. Its tower was to 'rise to a height of 277 feet [approx.. 84m] from the pavement', making it 'very much the highest commercial building in the City of London.'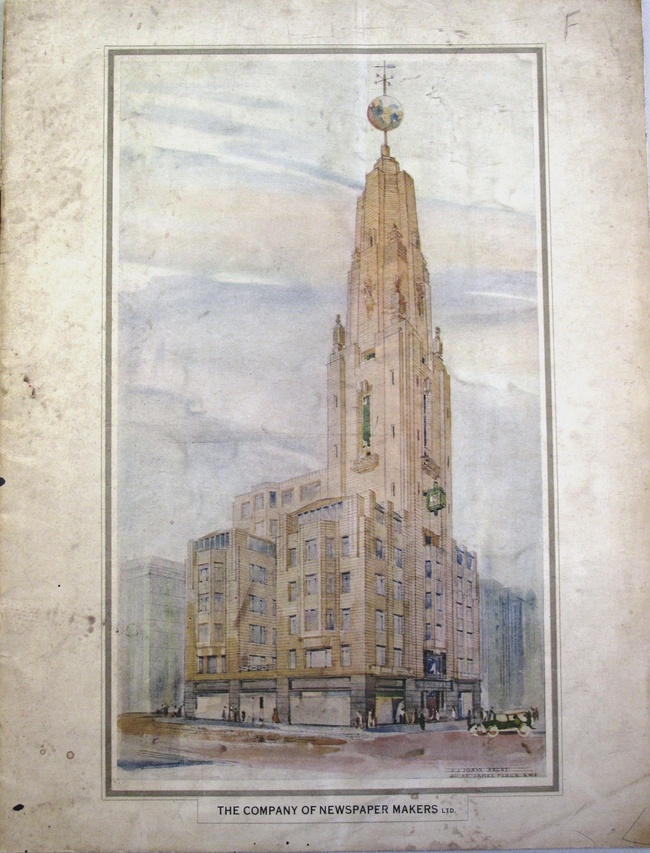 Despite these intentions, the Newspaper Makers eventually voted to surrender their Charter in 1935, its Members being offered places in the Freedom and Livery of the Stationers' Company. This infusion of new members was to have some interesting conseqences for the Company. One of these was the election of women to the Livery.
Women had traditionally been eligible for the Freedom of the Company, but the Livery were resistent to their admission, as this extract from the minutes of the Livery Committee for 14th December 1928 shows: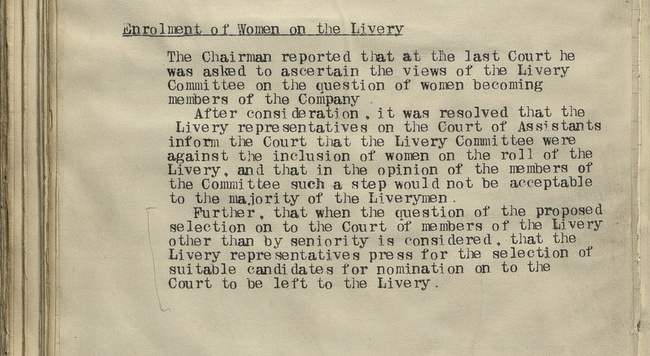 However, the terms of the amalgamation of the two companies meant that members of the Livery of the Newspaper Makers' Company were eligible to join the Livery of the new Stationers' and Newspaper Makers' Company. As the Newspaper Makers already had five women in their Livery, this forced the Stationers' hand. As a counterbalance, the 1933 Livery intake included a sixth woman from a traditional Stationer's background, the bookbinder Gertrude Violet Woodman.

Sadly this quiet revolution was not to take root, and it wasn't until the 1970s that the Company formalised the admission of women to the Livery. Gertrude Violet Woodman, however, went on to become the first woman Court Assistant of any Livery Company in 1969.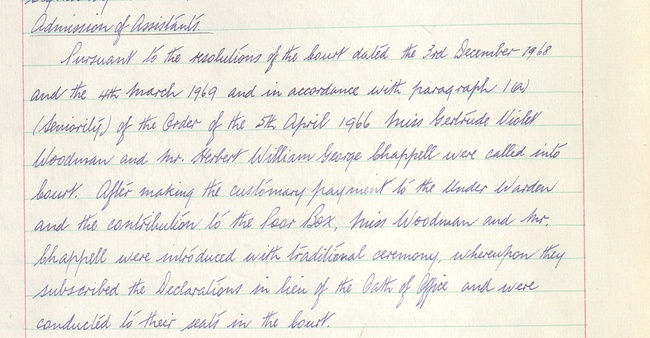 Extract from Court Minutes for 1st April 1969, TSC/1/B/01/37