Photo above : Lambeth Palace
Ali writes "We are proud to announce that Shepherds, Sangorski & Sutcliffe and Zaehnsdorf have collaborated with Oxford University Press in producing four finely bound bibles for His Majesty King Charles III's Coronation in May. Sangorski & Sutcliffe collaborated with OUP in 1953 on Her Majesty Elizabeth II's coronation bible and we are excited and proud to be involved again in such a historical moment.
Of the four, number 1 will be used in the ceremony and thereafter kept at Lambeth Palace, where an archive of coronation bibles stretching back centuries is held. The second copy will be given to King Charles III as a gift from the Archibishop of Canterbury; and the two remaining copies will be kept by Westminster Abbey and Oxford University Press.
With the commission coming at the beginning of January, OUP and Shepherds had to make many decisions swiftly. The leather chosen - a rich crimson vegetable tanned goatskin – was produced by Harmatan in Northamptonshire (another company with Stationers' connections as its MD is Liveryman Marc Lamb and last year they were awarded a Stationers' Warrant).
The initial cover design of a nature inspired roundel created by the design team at OUP with floral and leaf brass hand tools hand-picked from the Shepherds' archive, was expanded and completed by the design team at Shepherds, to create a harmonious finish. The final specification involves leather doublures inside the covers with inlays of dark blue leather, navy blue silk flyleaves, handsewn silk head and tail bands, raised bands on the spine, and a full gilt finish inside and out of 24ct gold leaf.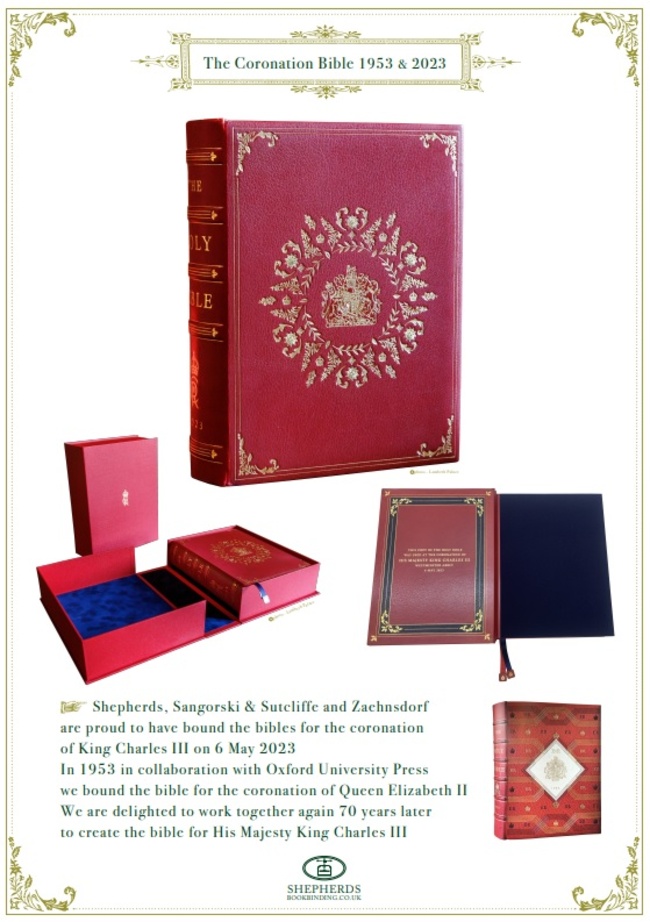 The printed signatures were sewn by hand on linen tapes with linen thread on a wooden sewing frame – ensuring longevity, flexibility and strength.
The cover boards were created by laminating dense millboard and paper and sanding them to create a soft cushioned look. The edges of the pages were gilt, the spines rounded with a cobbler's hammer, and shaped ('backed') to accommodate the cover boards perfectly, and gold, red and blue silk threads were wound around cores at the head and tail of the spine to create the headbands.
The leather was pared by hand to ensure a smooth seamless finish and applied to the cover boards with wheat starch paste. After drying, the King's Cypher, Royal and OUP crests were blocked to front, back and spine in gold leaf and the lengthy process of hand tooling the design using individual hand tools and 24ct gold leaf began.
Boxes were made to hold each bible with the King's cypher emblazoned in gold to the top.
Six staff spent over 300 hours binding and finishing the four bibles and we are immensely proud of what has been accomplished. I hope His Majesty will consider it to be a Coronation Bible fit for a King!"