Five apprentices were bound to masters as follows:
To Liveryman Peter Day – Emma Loffhagen of the London Evening Standard
To Court Assistant Carol Tullo OBE - Diane Jones and Alexandra Neale both of Pearson
To Past Master Helen Esmonde – Mina Gohari and Alexander McEvity both of Pearson.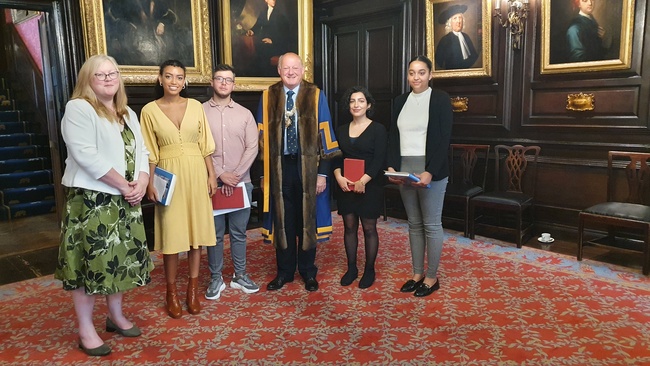 From L-R: Diane jones, Emma Loffhagen, Alexander McEvity, the Master Mina Gohari and Alexandra Neale
This was a superb way for the Company to mark the end of the Apprentice Futures event coverage of which is to follow.
A Freedom Ceremony for apprentices who had successfully completed their apprenticeship followed the Binding Ceremony and the following were made Free of the Company:
Rebecca Davidson - Portfolio Marketing Manager (Primary), Pearson
Chris Hughes – Knowledge Base & Content Specialist, Pearson,
Manos Kapterian – COO, Said Business School
Megan Kitts - Content and Learning Specialist, Pearson
Emma Loffhagen – Reporter and Features Writer – London Evening Standard
Alexandra Neale – Digital Learning Platform Analyst - Pearson
Jonathan Price – Media Producer, Pearson
Matt Stockl – Bookbinder, Royal Collection Trust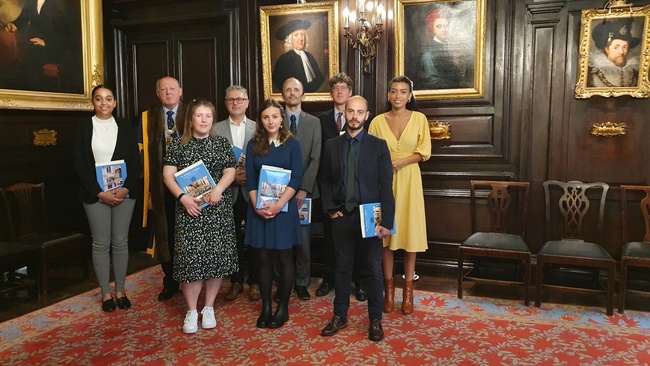 From L-R: Alexandra Neale, the Master, Rebecca Davidson, Manos Kapterian, Megan Kitts, Chris Hughes, Jonathan Price,
Matt Stockl and Emma Loffhagen
The ceremonies were followed by a short drinks reception in the courtyard.