Liveryman Rodney Mountford writes-: We all gathered in Les Gets/Morzine in the 4th week of January for skiing, training and racing plus convivial lunches and suppers. We all knew each other apart from one welcome new addition in Charlotte, guest skier and daughter of our captain Martin de la Bedoyere.
The first event, a bolt on extra organised by the SnowCamp Charity, was a Triathlon. Teams of four tackled a slalom, a race on skis, shooting and a race on crampons. However our team of (from L-R in the Photo) Freddie Fenwick, Charlotte de la Bedoyere and her father Martin and Andy Jones acquitted themselves really well finishing tenth out of 27 teams.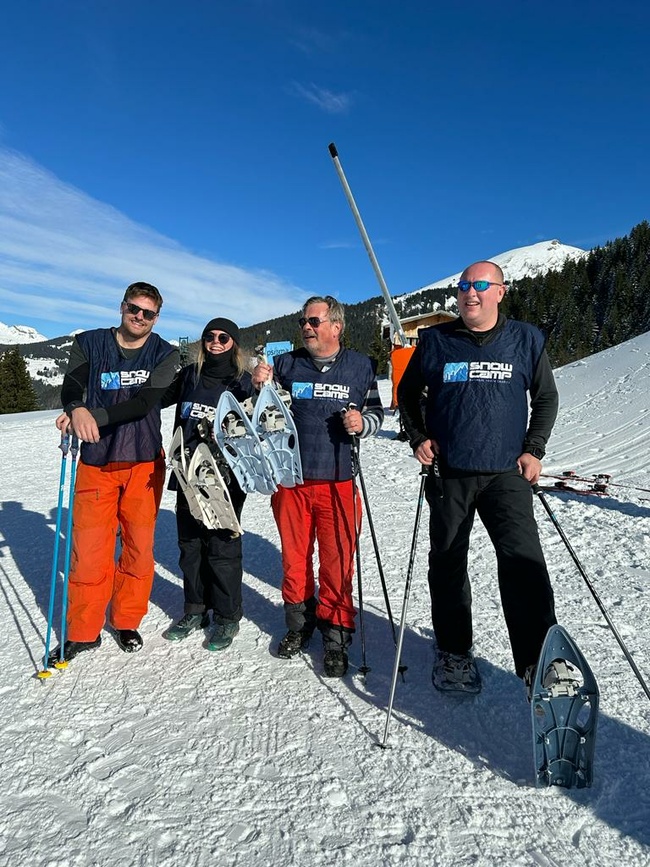 The Triathlon Team
The short slalom on Thursday decided the start position for everyone on Friday's giant slalom. One after another, 182 skiers representing 34 City Livery Companies raced down the course. The Stationers' were especially pleased with their results as our average age is greater than most.
It was pleasing to see Freddie Fenwick finishing high on the former list repeating his success from 2020 and Charlotte de la Bedoyere finished extremely well to win a well deserved Fastest Lady Guest prize.
In the age adjusted results, Sarah Faulder was our fastest skier closely followed by other team members including our Captain Martin de la Bedoyere, Past Master Trevor Fenwick, Court Assistant Nick Mockett, Nigel Southey, Andy Jones and myself. Indeed somehow I managed to grab the Fastest Oldie prize by one tenth of a second. Only just made it!"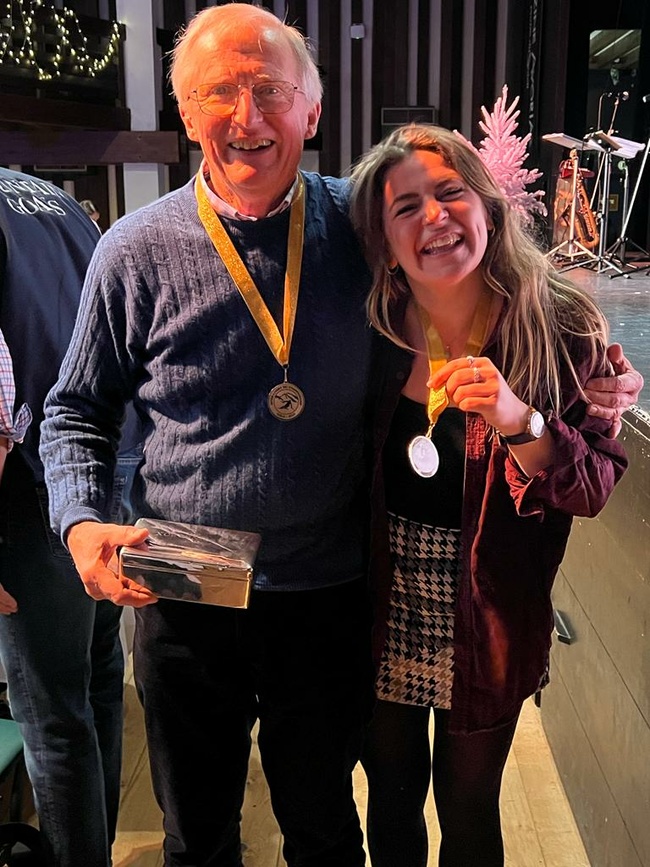 Rodney and Charlie with their medals
For full coverage please look out for Rodney's article for Stationers' News.
In the main photograph you can see from L-R: Rodney Mountford, Nick Mockett, Nigel Southey, Sarah Faulder, Andy Jones, Martin de la Bedoyere, Freddie fenwick, Trevor Fenwick and Caroline de la Bedoyere.
We were particularly missing Martin and Penny Woodhead this year but hope they will be with us again next year, the dates of which are 24th to 26th January 2024 for the actual events. We tend to gather however, from the previous Monday in order to seriously train and practice, both on and off the slopes.
As ever, thanks are due to our chalet hosts without whose accommodation it would be hard for us to compete. Trevor Fenwick and Martin de la Bedoyere together, of course, with Jane and Caroline made us all so welcome.
New skiers are always welcome to add to the team. Please express your interest now (via admin@stationers.org) and then Martin de la Bedoyere will come back to you in September/October when registration tends to begin.