Martin has an artistic background with his father being a portrait painter and himself working on stage sets. He started to decorate book edges in the 1970's and since then has produced more than 3500 illustrations. In March 2019 he visited Windsor Castle with his family to be awarded an MBE by the Queen. During his visit he was invited to show his work in the Royal Bindery and discuss fore-edge painting with The Queen's Bindery Apprentices and Royal Library staff.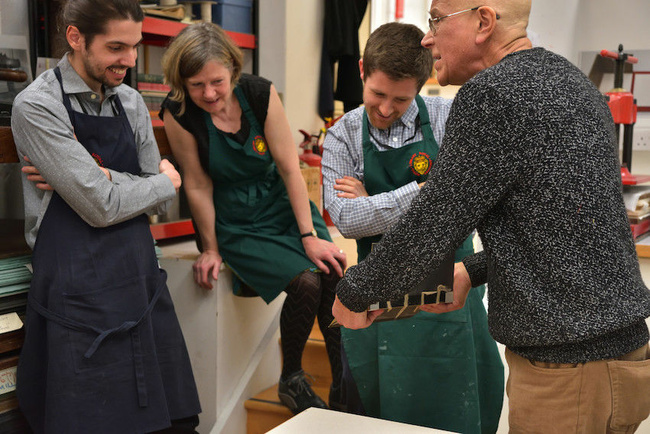 (L-R in the photo above ) Andreas Maroulis (first year apprentice), Irene Campden (Senior book conservator-restorer), Ted Bennett (first year apprentice) and Martin Frost.
The edge painting takes place on a book when its pages are fanned and held in a press. This way the surface is bigger for painting and the decoration is only visible when the edges are splayed (see photo below). To enhance this effect, Martin uses a historic technique known as vanishing fore-edge painting, when the edges of the book are gilded after painting which hides the image until the pages are fanned out. An edge painting can be single, double, triple or split double. His work has a large variety and he has been commissioned to decorate edges of books originating from the 17th to the 21st century. Martin's early works consisted mostly of landscapes and rural scenes but for the last 15 years he has focused mainly on characters and portraits.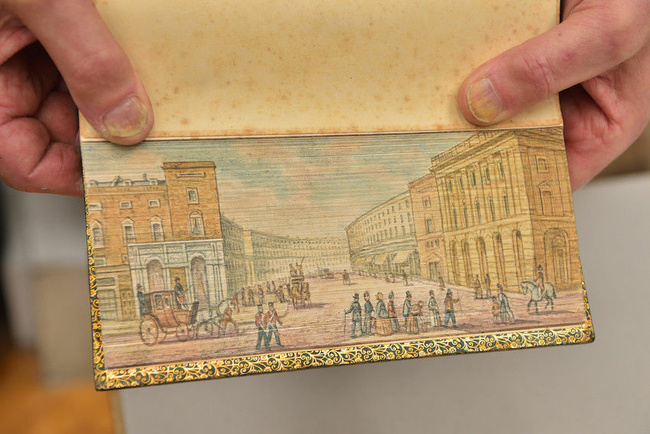 As with many other heritage crafts, fore-edge painting is at risk of being lost. Therefore it is important to preserve and promote the artworks and the people who make them. We are hoping that the apprentices will have a practical workshop with Martin Frost in the near future, so that they can learn more about this historic craft and help pass on these skills to the next generation.
For more information please visit: www.foredgefrost.co.uk