The visit was organised by Court Assistant Mike James, who escorted them to the Tokefield Centre, together with Master Moira Sleight and Liveryman Margaret Willes. Introducing these legends to the wonders of the early volumes of the Stationers' Register was an amazing experience. There's a special sort of magic generated when actors who have lived and breathed the words of Shakespeare encounter the historic documents that link us to the lifetime of the man himself. History came to life, as Edward Blount's 1608 entry for Pericles, Prince of Tyre prompted reminiscences from Joseph and Bruce, who both acted in revivals of the play during the 2000s: Joseph as Gower in Dominic Cooke's Stratford production, and Bruce doubling up as Cleon and Boult in Neil Bartlett's psychological conceptualisation at the Lyric Hammersmith - a production which also featured our Clerk, Giles Fagan! Meanwhile, Claire imbued the records with stardust as she recollected episodes from her glittering career, such as working with the great Shakespearean director Michael Benthall, and the joys of playing the deliciously malevolent Queen in Cymbeline.
| | |
| --- | --- |
| | |
Left: entry of copy for Pericles, 20 May 1608 (Stationers' Company Archive, TSC/E/06/02)
Right: entry for Shakespeare's First Folio, 8 November 1623 (Stationers' Company Archive, TSC/E/06/03)
As befits this year's quatercentenary celebrations, the visit concluded with a viewing of the Register entry for Shakespeare's First Folio. The story behind this amazing collaboration, harnessing the theatrical experience of Heminges and Condell, the industry knowledge and Stationers' Company connections of Blount and the Jaggards, and a huge pool of unrecorded labour, is a drama in its own right. Poring over the beautifully formed letters, the actors marvelled at how such masterpieces as Macbeth and The Tempest might have otherwise been lost to posterity – and how fortunate we all are that, through fire, war, and all the other calamities that have befallen the City of London, the Stationers' Company has managed to preserve its irreplaceable Archive.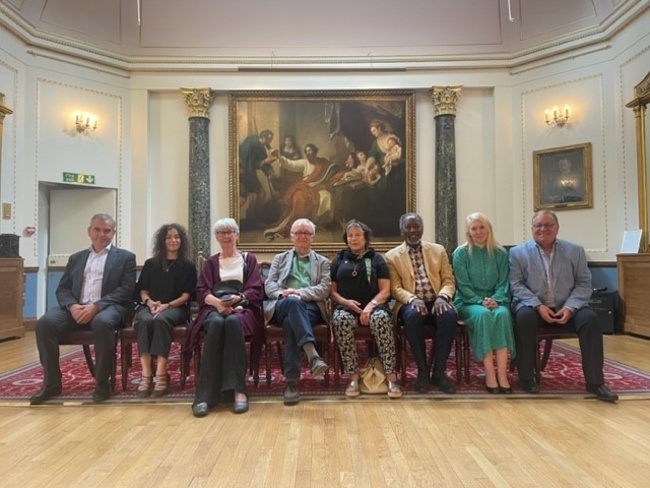 Group photo in Court Room, left to right: Clerk Giles Fagan, Archivist Ruth Frendo, Liveryman Margaret Willes, Bruce Alexander, Claire Bloom, Joseph Mydell, Master Moira Sleight, and Court Assistant Mike James.