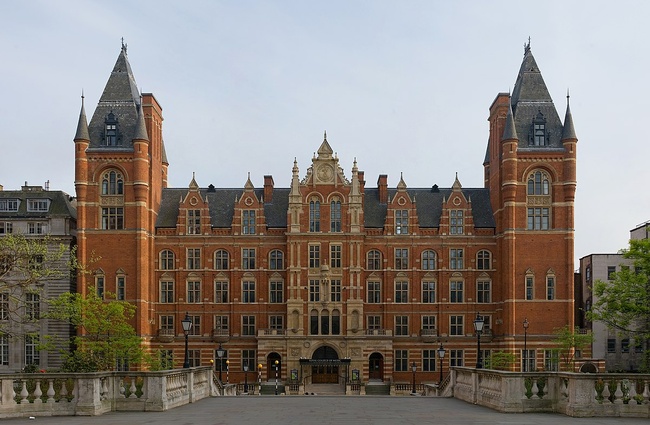 Exterior of the RCM. Photo by David Iliff. License: CC BY-SA 3.0. Downloaded from https://en.wikipedia.org/wiki/File:Royal_College_of_Music_-_April_2007.jpg
The Royal College of Music (RCM) is an imposing Victorian building, just across the road from the Royal Albert Hall's south porch and the Memorial for the Exhibition of 1851. It was designed in the early 1890s by Sir Arthur Blomfield, an eminent and prolific architect, and one of the last of the Gothic Revivalists. In the midst of such weighty Victoriana, the newly refurbished Museum provides an airy, light-filled interlude.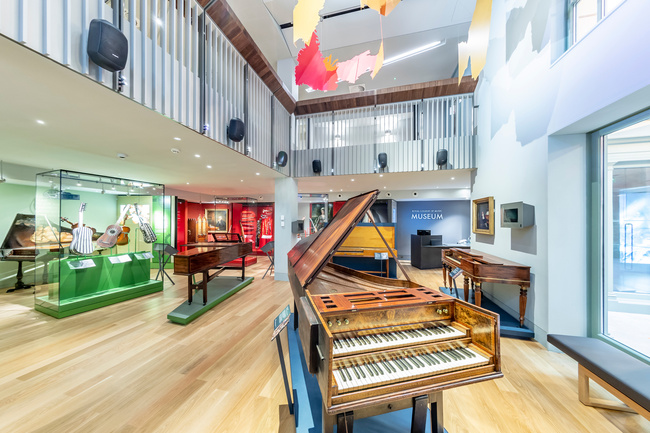 The newly configured RCM Museum re-opened to the public in 2021. Photograph courtesy of RCM, downloaded from https://venuehire.rcm.ac.uk/venues/museum/
It's part of a major redevelopment of the RCM estate, supported by the National Lottery Heritage Fund, focused on enhancing education and performance facilities, and re-imagining the museum as an interactive space, where visitors are encouraged not just to look, but to engage with the artefacts on display. Here the past is in continual dialogue with the present, so the extraordinary collection of historic musical instruments, spanning a period of over five centuries, is exhibited alongside a specially commissioned artwork by Scottish artist Victoria Morton, of sculpted three-dimensional representations of a musical score, suspended from the double-height ceiling. And bringing the exhibits thrillingly to life, RCM students regularly wander in to play the instruments, all of which are fully functional.
Left: Antiphonic Waves by Victoria Morton (2019), photographed from the Museum's upper gallery.
Right: Gabriele Rossi Rognoni and Ruth Frendo in front of musicians' portraits by Thomas Hardy (1757–1804)
Playing the instruments is actually a vital part of their conservation, as Gabriele explained – and he should know. A leader in the field of music curatorship, among other key roles he holds, he is President of the International Committee of Music Museums of ICOM (The International Council of Museums), and has been the driving force behind major redevelopments of several music museums across the world. Under his guidance, the display interweaves artefacts and paintings: for instance, a Tischbein portrait of a woman holding a distinctively decorated cittern, or Baroque lute, hangs opposite a case holding that very same instrument, a unique piece made by luthier Joachim Tielke in 1676. George Dawe's portrait of Benjamin Flight (1764/5–1846) hangs beside an example of Flight's improved model of barrel organ. And a group of eighteenth-century painter Thomas Hardy's portraits of artists, including his celebrated portrait of Haydn and the Museum's most recent acquisition, a portrait of Samuel Arnold, are displayed above a state-of-the-art smart glass museum case holding selected, regularly rotated jewels from RCM's manuscript archives. Light-controlling film in the walls of the case switches from dark to clear at the push of a button, allowing visitors to look at the display before reverting to a fully protective darkness.
From left to right: Hamburger cithrinchen (Bell cittern), Joachim Tielke, Hamburg, 1676. RCM Museum Collections, Object number RCM0027. https://museumcollections.rcm.ac.uk/collection/Details/collect/1073
Portrait of a Lady Holding a Hamburger Cithrinchen, Johann Freidrich August Tischbein, c.1795. RCM Museum Collections, Object number LDRCM.2019.2.1. https://museumcollections.rcm.ac.uk/collection/Details/collect/5097
Chamber barrel organ, Flight & Robson, London, c. 1820, displayed alongside Portrait of Benjamin Flight by George Dawe, c. 1813
Upstairs, we explored the Museum's current exhibition, Hidden Treasures of the RCM Collections, where, among objects as diverse as a Cruikshank etching of a dancing lesson and a yueqin (string instrument) from Guangzhou acquired by George IV, I was delighted to come across an engraving of the 'Guidonian hand', a memory technique used to teach singers to sight-sing, executed by Stationer Richard Blome (bap. 1635?, d. 1705), whose map-making career is currently showcased in one of the Stationers' Hall display cases.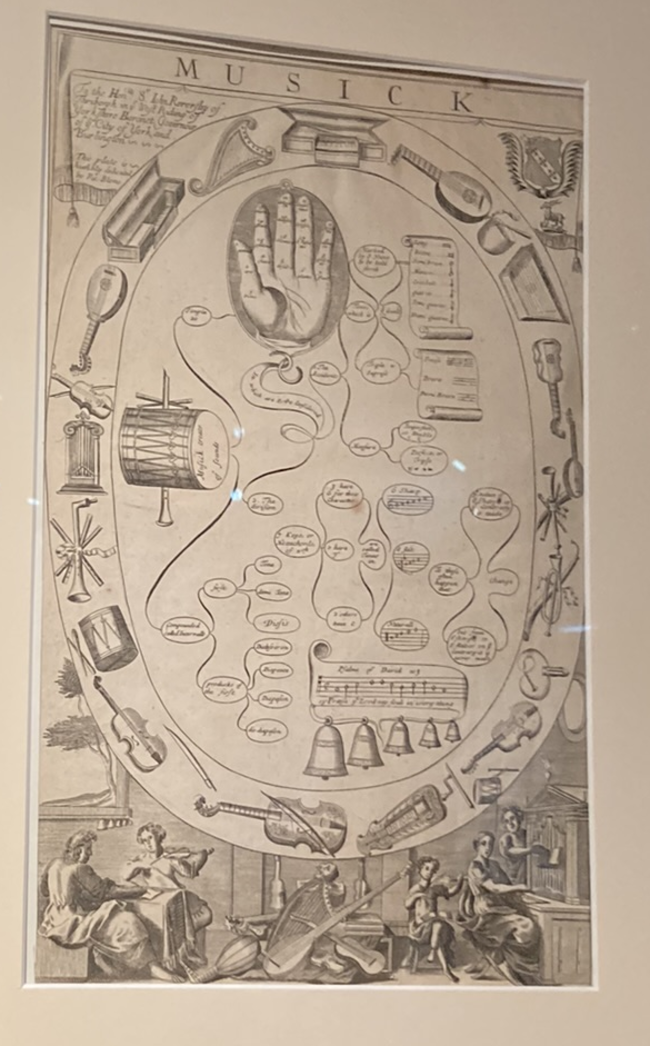 Guidonian Hand, Richard Blome, 1686
Finally, we visited the RCM Library. Entering its main reading room feels like stepping into another era, with its antique coffered ceiling, imported, along with stained glass windows, painted panels and a wall-mounted minstrels' gallery, from a castle near Siena by the Museum's founder, art collector and dealer Sir George Donaldson (1845–1925). It's a calm, reflective space, and it was interesting to learn that it originally housed the Museum. The difference between the two settings tells us a lot about how the aims of the modern museum have changed: from quiet contemplation to active participation; from observing the past to bringing it back to life.

The Donaldson Room at the RCM library. Google image downloaded from https://twitter.com/RCMLondon/status/715177427387940864