A LOCKDOWN PROJECT WITH AN UNEXPECTED CONCLUSION
by Michael Windet
The lockdown of 2020/21 provided many people with the opportunity to tackle the jobs they'd always wanted to do but never got around to them. Mine was to go through all the documents I inherited from my father regarding the Windett family history, previously compiled by a Great Uncle and would appear to have been his life's work. Having a relatively unusual surname, I thought that it might be quite easy.
I opened this dusty old cardboard suitcase to reveal shoeboxes of index cards, letters, notebooks etc… all cross referenced and sorted into dates, places of birth and death. Hundreds of them, also showing variations of spellings e.g. Windeat, Windhoute, Windette etc…
I sat down and went through them all. Whilst the majority were blind alleys, I managed to trace and verify my own Windett line direct to a James and Elizabeth Windett in 1713. After that, lack of parish records and the annoying habit of calling your offspring with the same Christian name makes proving the lineage more difficult. However, although unproven, I deduce that the Windett line goes back to a John Windeoute 1385-1457 supporting theories that this man was a Dutchman who was brought over to drain The Fens.
However, what really caught my eye was mention of a John Windet who appeared to be a printer and stationer in the late 1580's. Mention was made in Great Uncle's notes that there might even be a family crest or similar. With the great help of Freeman Mark Bland and archivist Ruth Frendo, we managed to unearth a great deal of information and detail about this man.

Record of Windet's cloathing, 1586. Stationers' Company Archive TSC/1/F/02/01 Liber B, f.415v
His first premises were in Baynard's Castle in Thames Street, 'at the sign of the White Beare' (thus the bears on the crest), further down the road 'at the sign of the Cross Keys' and then in Milk Street, just around the corner from St Paul's, and was a significant printer to the City of London (4 presses) and was made a liveryman, probably in the 1590's.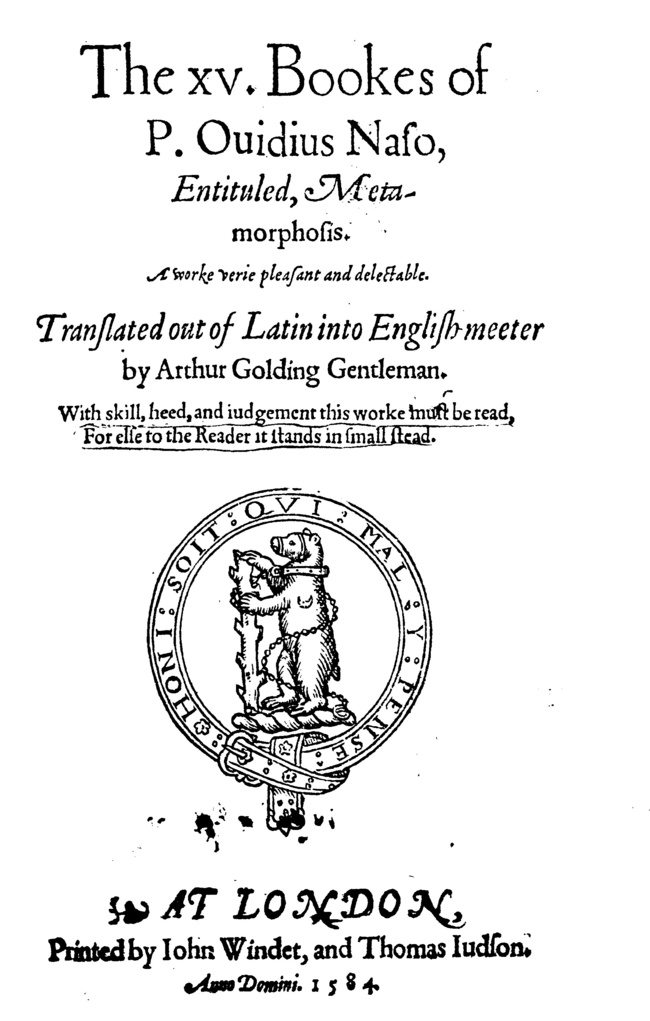 Title page of a translation of Ovid's Metamorphosis, reproduction of original in the British Library.
He was also the unofficial printer for Lambeth Palace and was used by all the senior clerics. Mark Bland's paper "John Windet and the Transformation of the Book Trade 1584-1610" gives a wealth of interesting detail and background.
To my delight, the coats of arms used by John Windet were also found. There were four which were more Impression Marks than coats of arms. The main one bears the motto "Homo Non Pane Solo Vivet".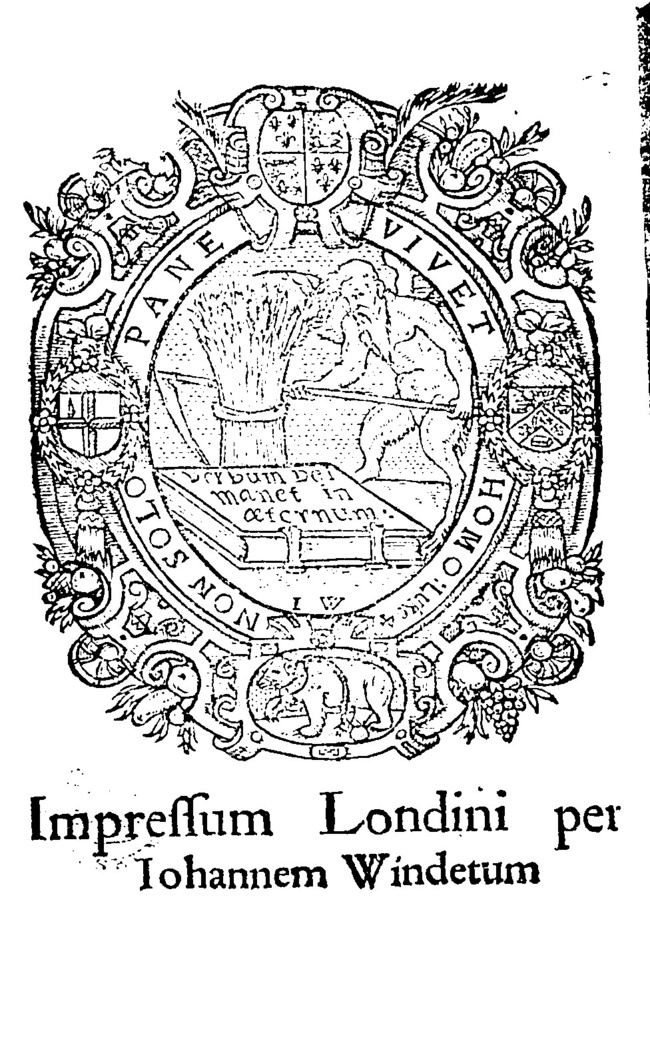 Printer's device of John Windet, with imprint, reproduction of original in the British Library.
I contacted the Royal College of Arms but they had no record of any such devices but I though how wonderful it would be to have a Family Crest to pass onto future generations in remembrance of John Windet. By Google chance, I hit upon a company that said they specialised in designing coats of arms. Called Dark Designs, they were fantastically helpful and managed my brief of bringing elements of all the shields into one Crest which they did, including two little 'extras' added by myself!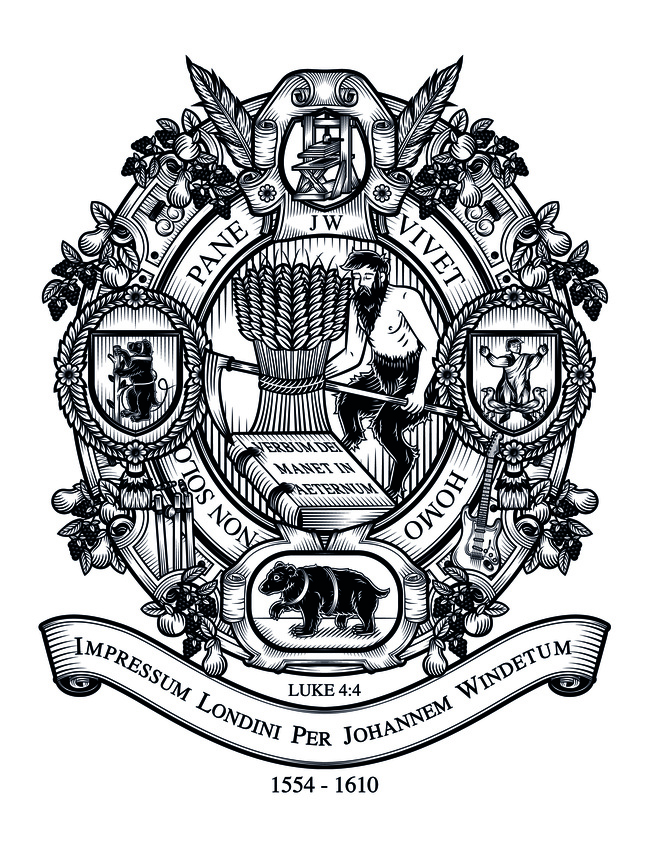 John Windet and his wife died without issue so we cannot claim to be direct descendants but I would like to think that there is a connection. In fact, by strange coincidence, my father spent much of his post-war working life designing and printing radio navigation maps, later to be used by pilots all over the world and known as Aerad's. My own career was 47 years in the paper trade so, 450 years later, the legacy lives on!
Citation
Mark B. Bland, 'John Windet and the Transformation of the Book Trade, 1584–1610',
The Papers of the Bibliographical Society of America

2013

107

:

2

,

151-192