The book formed the centre piece of an event organised by the Old Members of Queen's College Oxford. Court Assistant Professor Tim Connell, himself a Queen's College alumnus, was instrumental in making the connection between Queen's and the Stationers' Company. This year being the 400th anniversary of the First Folio's publication, the volume was the natural focal point for a visit to the home of the Stationers' Register. Queen's College Librarian Dr Matthew Shaw was kind enough to give me a close look at the pages as he installed the Folio in one of our exhibition cases in the Court Room. It was fascinating to see the printers' mark-up for stop-press corrections in King Lear, and even the movement along the page of a hair from one of the printers. Details like this breathtakingly bring the physical realities of the printing process to life. There were also pencil marks and annotations, some of which are likely to be Garrick's own, along with all the signs of a book well read and loved – including possible tobacco traces!
| | |
| --- | --- |
| | |
Left: Opening of Queen's College Folio. Right: Court Assistant Professor Tim Connell with the First Folio on display in the Court Room. Photographs © Ben Broomfield for Queen's College Oxford
Naturally we took the opportunity to highlight some of our own archival treasures. The Stationers' Register entry of the First Folio was of course on display, although due to the fragility of that particular page (too much exposure over centuries of Folio-worship!), we couldn't leave it open for too long. However, we also exhibited Register entries for some of the quartos. On 6th February 1594, Stationer John Danter registered his title to Titus Andronicus - just weeks after Henslowe noted in his diary the first account we have of the play's performance at the Rose on 24th January 1594. And on the 20th May 1608, Stationer and bookseller Edward Blount 'entered for his copy' two plays, Pericles, Prince of Tyre and Antony and Cleopatra. Despite being entered, Antony and Cleopatra wasn't actually printed until the First Folio (in which Blount of course played a significant part), and it is listed in the Register entry for that title as one of the 'Copies as are not formerly entered to other men'. Conversely, Pericles was reprinted several times—but not in the First Folio, although it did appear in William Jaggard's 1619 attempt to print a collection of Shakespeare's works. It didn't appear in true folio form until the Third Folio, which included plays now accepted as wrongfully attributed to Shakespeare, colouring critics' reception of Pericles for some time.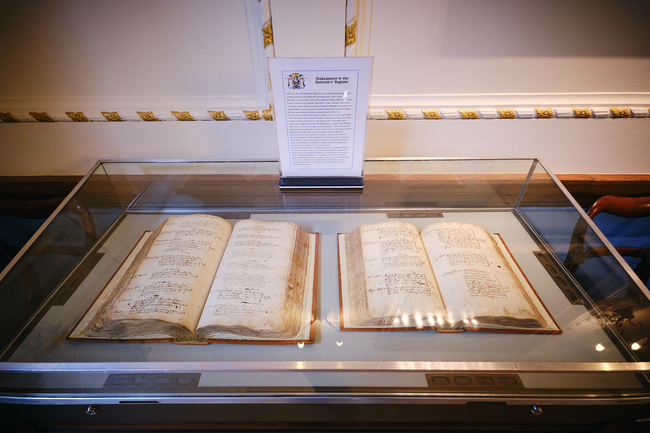 Register volumes showing entries for Titus Andronicus (left), and Pericles, Prince of Tyre and Antony and Cleopatra (right). Stationers' Company Archive, TSC/F/02/01 and TSC/E/06/02. Photograph © Ben Broomfield for Queen's College Oxford
After guests had spent some time looking at the Court Room exhibition, we gathered in the Hall for a fascinating panel discussion of the significance of the First Folio, and of the enduring impact of Shakespeare on both the academy and the wider culture. Introduced by Court Assistant Professor Tim Connell, the panel was chaired by Professor Rebecca Beasley, Fellow of English at Queen's College, and consisted of a group of experts in three very different aspects of Shakespeare Studies. Dr Matthew Shaw spoke eloquently about the materiality of the Folios (Queen's College is lucky enough to own copies of all four editions), and what they tell us about the historic reception of Shakespeare. Dr Jennifer Edwards, Career Development Fellow in English, talked about teaching university classes on Shakespeare, in the context of both his singular role within the canon and his pervasive presence in the English language and the Western imagination. And joining remotely, actor Alfred Enoch (also a Queen's College alumnus) shared some insights into performing Shakespeare for today's audiences.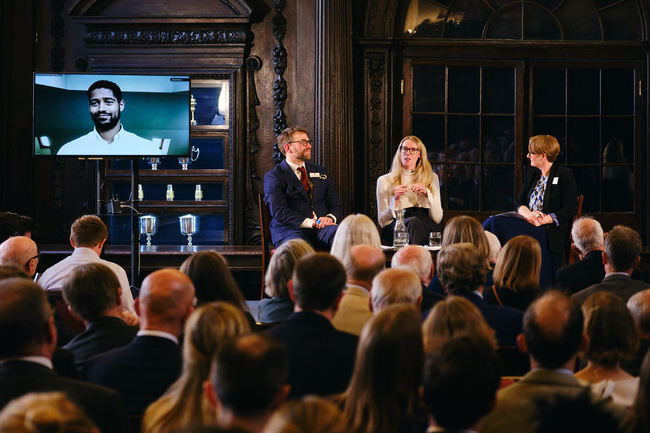 From left to right: Alfred Enoch (on screen), Dr Matthew Shaw, Dr Jennifer Edwards and Professor Rebecca Beasley. Photograph © Ben Broomfield for Queen's College Oxford
The evening concluded with drinks and bowl food in the garden, blessed by the beginning of what will hopefully be a long spell of summer weather. Congratulations on a wonderful event to Old Members' Officer Dr Christine Baro-Hone and her team, and Queen's College Librarian Dr Matthew Shaw. And of course, huge thanks to Court Assistant Professor Tim Connell for another wonderful contribution to the cultural profile of our Archive.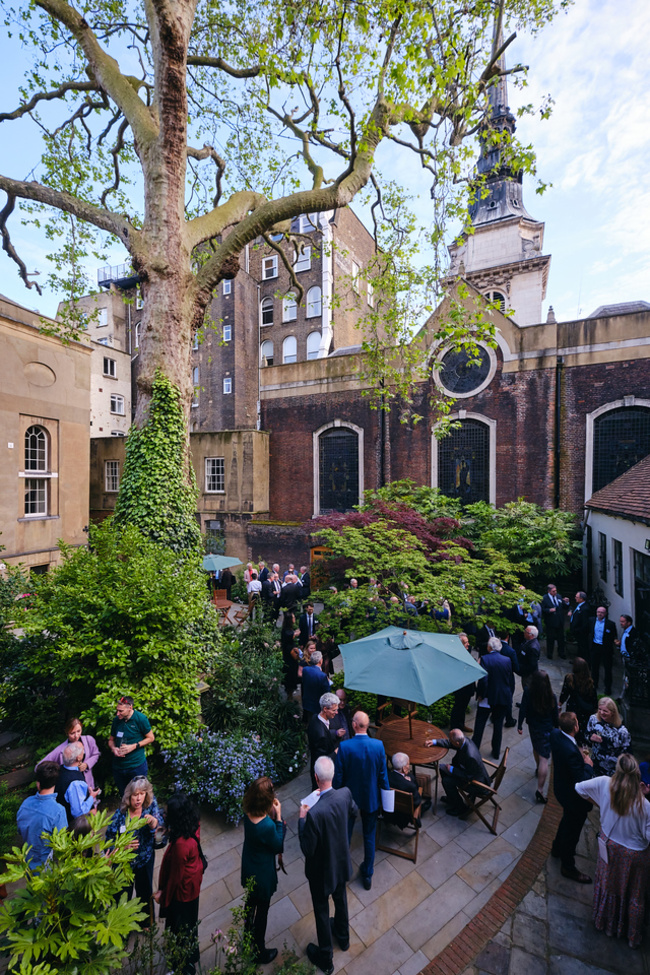 Old Members of Queen's College Oxford in the garden of Stationers' Hall. Photograph © Ben Broomfield for Queen's College Oxford
And for anyone longing to get an in-depth look at not just one First Folio, but dozens of them, check out First Folios Compared, the new free online resource from AMDigital. The site allows you not just to view every page of these priceless artefacts, but also to compare them. Looking at how each volume has been preserved, annotated, or even cut up and restitched can draw you into a whole new story about how different communities have engaged with Shakespeare over the century. Among the many details you can compare are stop-press corrections (changes made during the print run, where the press was literally stopped to allow for an alteration by the author or printer - so some of the sheets will already have been printed uncorrected), printshop marks, marginalia and damage.