Learning how to write letters was traditionally considered an essential part of a young person's education. It is not surprising, then, to find that the Stationers' Company Register A holds a record of the earliest letter-writing manual printed in the English language, William Fulwood's The Enimie of Idlenesse.
Entry of copy for Enemy of Idleness, Stationers' Company Archive TSC/1/D/02/01 Register A and first edition title page
A translation of the French work Le Stile et manière de composer, dicter, et escrire toute sorte d'epistres (1566), the book was licensed to Leonard Maylard, who payed the requisite fee to the Stationers in the financial year of 1566-1567. The book was first printed in 1568 by Stationer Henry Bynneman, and was a huge success. Still more influential was Angel Day's The English Secretary (1586), which provided instructions on how to write letters for practically every social situation imaginable.
Entry of copy for The English Secretary, Stationers' Company Archive TSC/1/F/02/01 Liber B
The instructions are fleshed out with sample letters such as 'An example reprehensorie, wherein a man of wealth sufficient is reprehended for mariage of his daughter, to the riches of an old wealthy Miser', and 'An example of an Epistle Accusatorie in the state Conjecturall, from a Marchant to the Father of his servant.' These examples are presented as a chain of imaginary correspondence, and contain such gloriously florid prose as 'Your wiles (Sirra) and sophisticall expositions of your owne misdemeanors ... are either too newly forged, to reape at my hands any sound credite, or the metall so light, as carieth in the weight thereof very small substance, in my conceit to be beleeved.'
It's easy to see how this format led to a blurring of the line between instruction manual and fiction. Early examples of the epistolary novel – a novel whose plot is developed entirely through an exchange of letters – include Aphra Behn's 'Love-Letters between a Noble-Man and his Sister' (1684–87). Letter-writing and letter-writing manuals continued to flourish through the seventeenth and eighteenth centuries, and it was in fact while planning a manual, Letters Written to and for Particular Friends (1741), that the Stationer Samuel Richardson began writing one of the most influential (and popular) epistolary novels in English. In Pamela; or, Virtue Rewarded, Richardson used the form of the epistolary novel to play with the conceit of being an observer, rather than the inventor, of the story. This appeal to realism was particularly significant in the development of the English novel.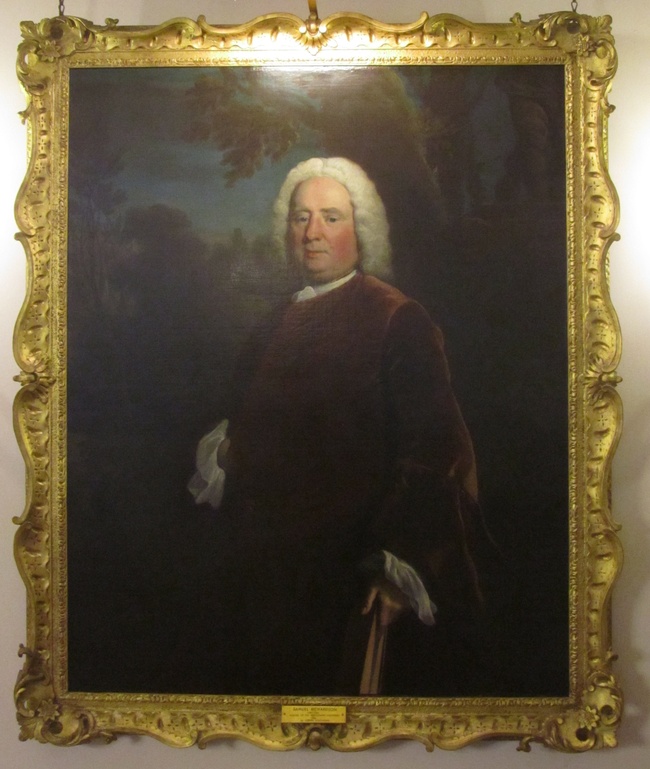 Portrait of Samuel Richardson by Joseph Highmore, Court Room of Stationers' Hall
The eighteenth century saw another important cross-over between letter-writing and print: the first publication of a collection of 'celebrity' letters. In 1737, Alexander Pope brought out an authorised edition of his Letters.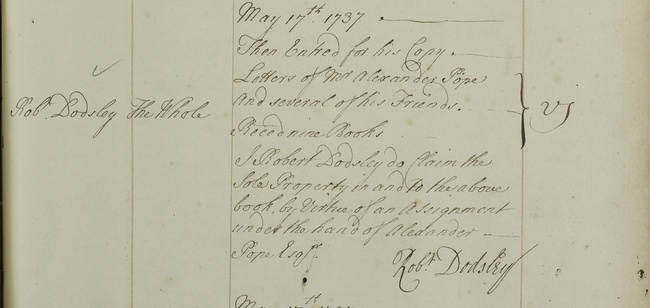 Entry of copy for Letters of Alexander Pope, Stationers' Company Archive TSC/1/E/06/08
A prolific letter-writer, Pope was also a careful curator of his correspondence. He began asking friends to return his letters to him as early as 1712, possibly wary that some of his more politically indiscreet remarks might fall into the wrong hands (there were, in fact, a few 'leaks' which strengthened his resolve to take control of the publication).
Offering a unique insight into the author's private life, collections of letters by public figures soon became popular. When the author Laurence Sterne's letters were posthumously published in 1775, they had the unforeseen consequence of bringing to attention one of his correspondents.

Entry of copy for Sterne letters, Stationers' Company Archive TSC/1/E/06/10
Ignatius Sancho (c1729-1780) was a writer of plays and music, all of whose compositions are now lost. He is also the first black Briton we know of who was registered to vote in parliamentary elections. Born on a slave ship, Sancho was orphaned as a baby and brought to England. Extraordinarily, he managed to transcend this difficult start to create a life which, although at times financially challenged, was intellectually and culturally a rich one. His social circle included artists, writers and actors. He numbered David Garrick and John Hamilton Mortimer among his friends and he had his portrait painted by Thomas Gainsborough.
When one of his correspondents, Frances Crewe, decided to publish a collection of Sancho's letters, the Letters of the Late Ignatius Sancho, an African (1782) became a best seller. Sancho's wit and literary skill shine through his letters, and the intimacy of a collection of letters was hugely effective in swaying public opinion towards the Abolitionist cause.
As well as having records of these wonderful letter writers and letter writing habits in its archive, Company protocols continue to insist that the skill is maintained with each new member's application being supported by letters from two sponsors. The Master and Clerk receive and despatch thank you letters for invitations extended and enjoyed and members still write to say how much pleasure something has given them and occasionally to let the Company know otherwise! No doubt as future generations explore the Company archive they will chance upon the current Master's Covid-19 letters to members and see that the art of letter writing is certainly not dead in 2020.
Main image: Ignatius Sancho by Gainsborough, National Gallery of Canada