A native of Bristol, at the age of sixteen Cadell moved to London to take up an apprenticeship with Andrew Millar. Although based in the Strand, Millar was a Scotsman who had served his own apprenticeship with the Edinburgh bookseller James M'Euen. When M'Euen opened a branch of his shop in London, he sent Millar to manage it. Before long, Millar took over the shop, and established his own imprint, 'at Buchanan's Head, against St. Clement's Church in the Strand.' It was there that Cadell started his trade, and eventually he in turn took over his master's business, upon Millar's retirement in 1767.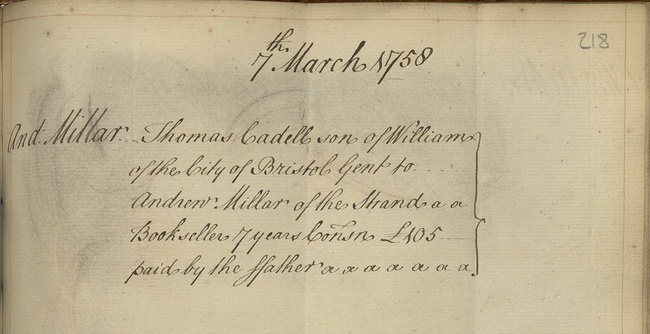 Thomas Cadell's apprenticeship record. Stationers' Company Archive, TSC/1/C/05/01/03
Throughout the eighteenth century, relationships between the Scottish and London book trades were at times fraught. The Statute of Anne's disruption of the concept of perpetual copyright introduced conflict between the Stationers' Company, which struggled to protect its former monopolies, and an economically re-invigorated Scottish book-trade. However, the Scottish Enlightenment's literary, philosophic and scientific achievements also provided opportunities and incentives for co-operation. Alongside printer William Strahan, Millar became one of the first Scotsmen ever elected to the Stationers' Company Court of Assistants. Strahan was one of Millar's favourite printers. Cadell maintained this relationship, and later also worked with Strahan's son Andrew. It was through this network of connections that Cadell came to work with William Creech, Burns's publisher in Edinburgh, to bring Burns's Poems, Chiefly in the Scottish Dialect, to a London readership.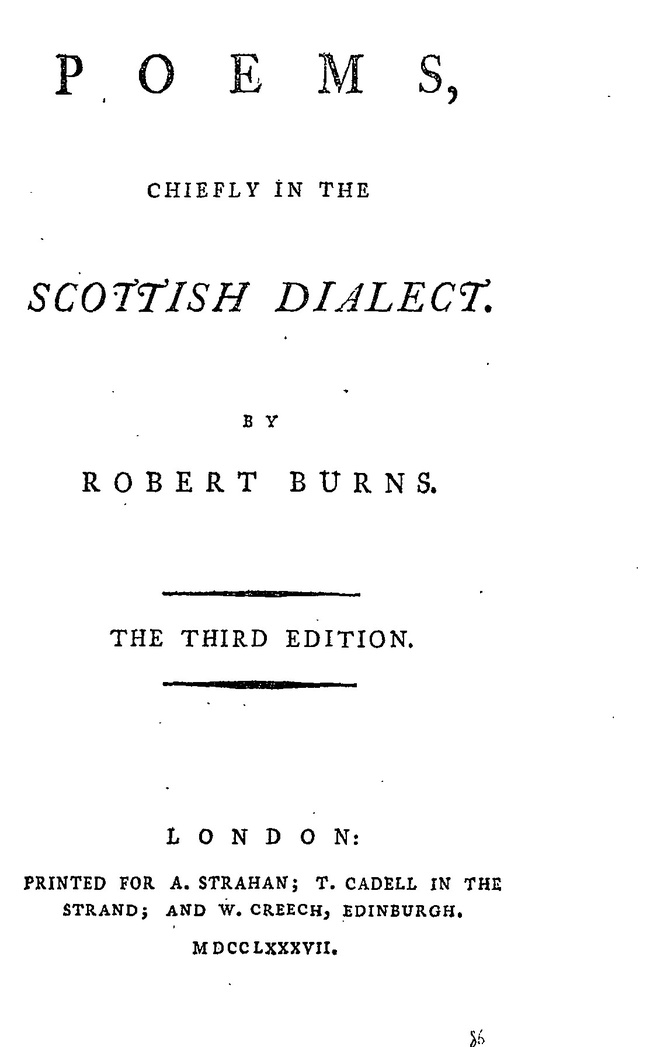 Title page of the first London publication of Robrt Burns's Poems
Poems, Chiefly in the Scottish Dialect was first published in 1786 in a limited edition by Kilmarnock printer John Wilson. The book included some of Burns's most famous poems, such as 'To a Mouse' and 'The Cotter's Saturday Night', and was a huge success, with all 600 copies selling out within months. Creech took on the publication of the second edition by subscription – a popular publishing model at the time, and one which has been revived in the digital age by crowdfunding publishers such as Unbound. The Edinburgh edition was nearly twice as long as the Kilmarnock edition, with seventeen new poems, five new songs, and extended versions of some of the original entries. Particularly relevant for today's date was the inclusion of 'To A Haggis', now traditionally recited at every Burns Supper.
Creech sent about five hundred copies of the Edinburgh edition to Cadell and Andrew Strahan, and it sold so well that publishing a third London edition made commercial sense. However, the London edition also inherited an unfortunate misprint from the copies sent by Creech. In a hasty partial second impression by the aptly named Edinburgh printer William Smellie, the Scots word 'skinking' (meaning watery) was replaced by 'stinking'. As a result, Cadell's London edition is sometimes referred to as 'Stinking Burns.'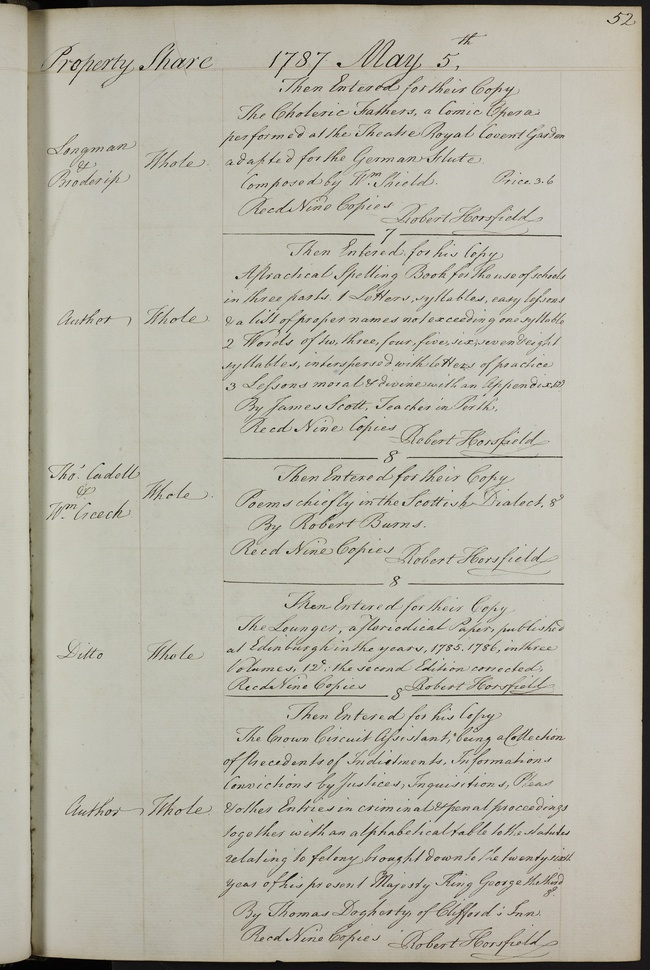 Entry of copy for Thomas Cadell's publication of Burns's Poems. Stationers' Company Archive TSC/1/E/06/11
Cadell also published works by two other luminaries of the Scottish Enlightenment, David Hume and Adam Smith, and his career was distinguished by his willingness to take a risk on authors whose work he admired. His contributions to public life included service as a governor of the Foundling Hospital, and as an alderman and sheriff of the City of London. He was an active member of the Stationers' Company, serving as Master in 1798/9 and stock-keeper in 1800. He also donated a painted window to the Company, designed by artist Francis Eginton, which was installed in 1802. The window was eventually replaced by the Caxton window, but you can still see Cadell's portrait, by Royal Academician Sir William Beechey, hanging in the Stock Room of Stationers' Hall.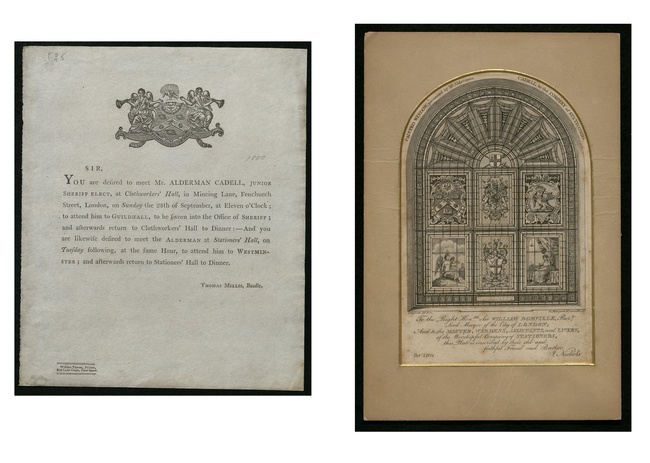 Left: Summons from Stationers' Company Beadle Thomas Millis to Liverymen, to attend Cadell's inauguration as sheriff, 1800. Stationers' Company Archive TSC/1/B/11/02/02/08
Right: Engraving of painted window donated by Cadell to the Stationers' Company, installed 1802. Stationers' Company Archive TSC/1/G/06/02/09