The study day was one of the outputs of a British Academy Innovations Fellowship awarded to Dr Helen Williams (Northumbria University), in partnership with the Stationers' Company Archive, for her project Communicating Women's Work in the Historical Archive. For her impact group, Helen selected the Young Stationers, as a community of emerging communications professionals who are ideally placed to re-evaluate traditional beliefs about the past. We designed the event to offer Young Stationers, academics, and archivists an opportunity to discuss the challenges and possibilities of using archival research to unearth hidden histories.



Left to right: Entries of copy made to 'the Widow Orwin', 5 January 1596; entry of copy made to Hannah Barrett, 9 December 1624; entry of copy for Hannah Woolley's 'The Ladies' Directory...', 16 July 1661 (Stationers' Company Archive, TSCTSC/F/02/01, TSC/E/06/03 and TSC/E/06/04 respectively)
The keynote address, 'Recovering Early Modern Women's Lives and Works in Book Collections', was delivered by Caroline Duroselle-Melish, Andrew W. Mellon Curator of Early Modern Books and Prints at the Folger Shakespeare Library. Caroline looked at the different ways in which women participated in the book trade: as authors; as printers, publishers and booksellers; as owners; and as unnamed labourers in book production and associated crafts. Naturally, Stationers' names dominated the rollcall for the English book trade – including printer Joan Orwin and bookseller Hannah Barrett. But I was fascinated to come across names I hadn't previously encountered, such as Hannah Woolley (or Wolley), writer of domestic manuals and one of the first Englishwomen to make an income as an author, and Elizabeth Brockett, book-owner, who signed her name four times in her copy of Shakespeare's First Folio. Intriguingly, on the same leaf as three of these signatures is inscribed a poem by Lady Mary Chudleigh, entitled 'To the Ladies.' The poem opens with the line "Wife and servant are the same," and given that Elizabeth decided on her own behalf to "shun that wretched state" and remain single, hers may well have been the hand that copied it in.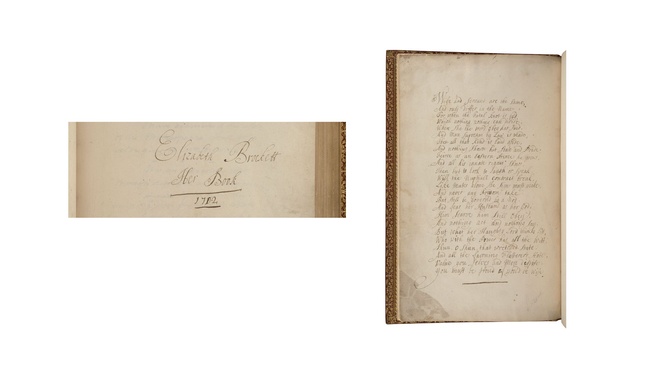 Images from the Folger Shakespeare Library under a Creative Commons Attribution-ShareAlike 4.0 International License (CC BY-SA 4.0)
The study day included a visit to the Archive, where I displayed some of our records of women in the Stationers' Company. These include the Court records in Liber B discussing Jacqueline Vautrollier's rights to print before and after the death of her husband, Huguenot master printer Thomas Vautrollier (d. 1587). Stationer Tace Sowle, the leading Quaker printer and bookseller during the years 1691–1749, was another woman who made her mark in the records. By tracing the reassignment of titles in the entry books of copies, we looked at how, as widows and wives, women were central to the genealogy of literary property. And finally we interrogated Court minutes, pension lists and petitions for evidence of women in the Stationers' Company who are otherwise invisible.

Tace Sowle's freedom of the Stationers' Company registered in Court minutes for 7 October 1695 (Stationers' Company Archive, TSC/B/01/04)
Exploring the archives prompted everyone to question how archival and historiographic practices both reflect and shape social attitudes. Helen's talk on 'Gender, Metadata, and Policy' provided a springboard for a concluding discussion of strategies to encourage new research that will recover the range of gender, ethnic and class identities which have too often been written out of history. We're looking forward to further studies in this area, including Freeman Dr Mark Bland's forthcoming publication on women in the Stationers' Company.