Mary Jean Chan wrote this poem to be seen on the page in a very precise way so we reproduce it here as an image.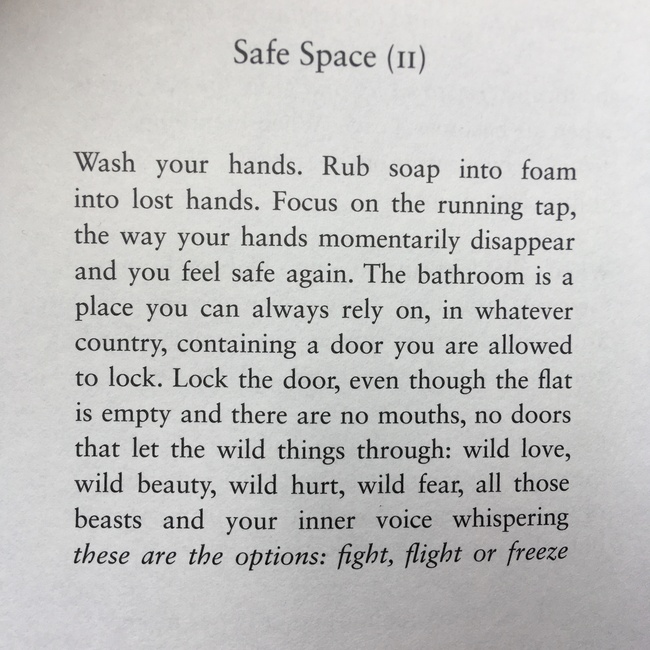 From Flèche by Mary Jean Chan, published by Faber & Faber. Available here with 25% off for PBS members.
Although written long before lockdown, 'Safe Space II' by Hong Kong born poet Mary Jean Chan eerily echoes our current anxieties: "Wash your hands. Rub soap into foam / Into lost hands." In a recent Guardian article Chan described growing up during the SARs outbreak and her recent realisation of its impact on this poem. Despite this dark legacy, there is something meditative and truly cathartic about these instructions, urging us to focus on the running tap, the safety of soap and the locked bathroom door against the wildness beyond.
Mary Jean Chan's 'dazzling and devastating' debut Flèche explores cultural differences, multilingualism, queerness and mother-daughter relationships. It was awarded a PBS Recommendation, won the 2019 Costa Book Award for Poetry and was shortlisted for the 2020 Dylan Thomas and Jhalak Prizes. Chan has twice been shortlisted for the Forward Prize for Best Single Poem in 2017 and 2019. She was guest co-editor of The Poetry Review Spring 2020, and is co-judge of the 2020 Stephen Spender Prize for Poetry in Translation. She is a Lecturer in Creative Writing at Oxford Brookes University.
Do you love poetry? Join our book club for poetry lovers and enjoy a year of poetry parcels delivered straight to your door. Every quarter Poetry Book Society members receive the very best new poetry book, the PBS Choice, and our lively poetry magazine full of poems, interviews and reviews of the latest poetry releases. Find out more here.