Since the nineteenth century, there has been some debate as to whether or not the publication was authorised by Shakespeare himself. The sonnets, composed between 1591 and 1599, were circulated in manuscript among a private circle of Shakespeare's friends for ten years before publication. A popular theory held that they were published to discomfort the playwright, a conjecture which certainly reveals much about Victorian unease with the homoerotic content of many of the sonnets. Thorpe's dedication in the volume also prompted much speculation as to the identity of 'Mr W. H.', 'the onlie begetter' of the poems: was this a misprint for 'Mr W. SH.' (an abbreviation known to have been used by Shakespeare); were 'W. H.' the initials of Shakespeare's muse; or do they lend weight to the many theories disputing the Stratford Bard's single authorship of the entire Shakespearean oeuvre?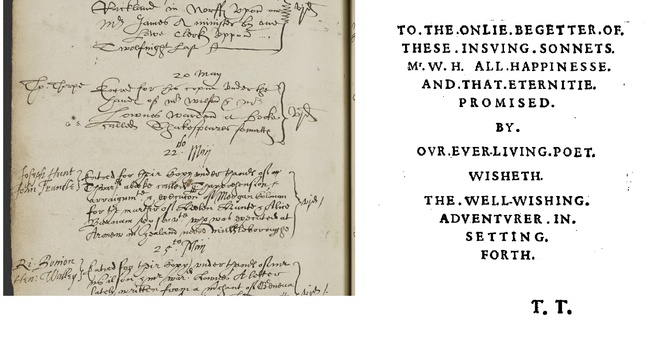 Left: Entry of copy for Shakespeare's Sonnets, 20 May 1609. Stationers' Company Archive Liber C, TSC/1/E/06/02
Right: Dedication in the Thorpe edition of Shakespeare's sonnets
Given that another outbreak of plague closed London theatres in 1609-1610, it's likely that the playwright committed the sonnets to print at this point to recoup lost earnings, as he did in the case of his long narrative poems Venus and Adonis and The Rape of Lucrece. Thorpe was an obvious choice to handle the work, having distinguished himself as a publisher of high quality literature, including important works by Ben Jonson and John Marston.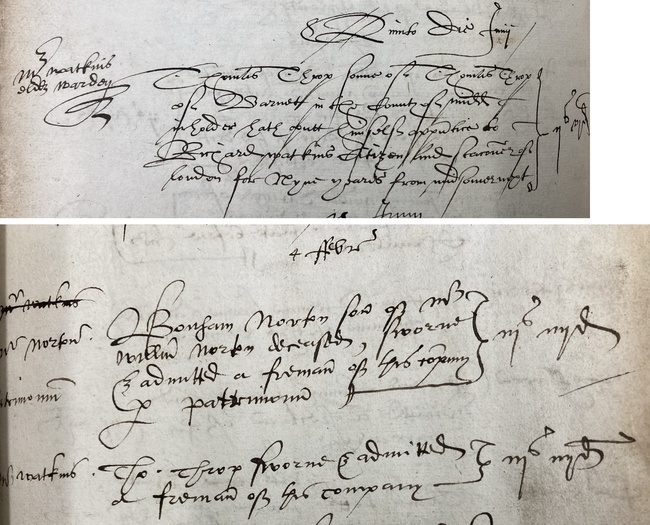 Top: Apprenticeship record for Thomas Thorpe, June 1584; Stationers' Company Archive, Liber B TSC/1/F/02/01
Bottom: Freedom record for Thomas Thorpe, February 1594; Stationers' Company Archive, Liber B TSC/1/F/02/01
Thorpe's career is interesting in itself. The son of an inn-keeper in Barnet, in June 1584 he entered an apprenticeship with Richard Watkins, a prestigious printer who served twice as Master of the Stationers' Company (in 1589 and 1594). Thorpe was made free of the Company in 1594. Although he appears never to have owned either a bookshop nor a printing press, he built a successful career in publishing, with a reputation for discrimination, and for the literary playfulness of the dedications he added to his editions.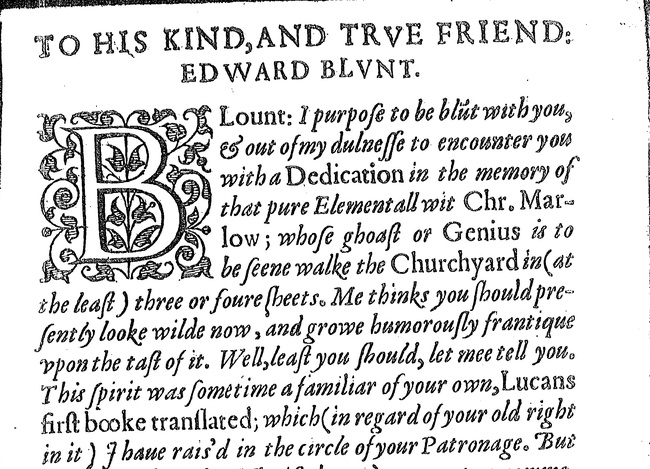 Dedication addressed to Edward Blunt [sic] by Thom. Thorpe. From Lucans first booke, printed by P. Short, and are to be sold by Walter Burre at the Signe of the Flower de Luce in Paules Churchyard, reproduction of original in: Folger Shakespeare Library for EEBO
The first of these, a dedication to 'his kind and true friend Edward Blunt', appears in Thorpe's 1600 publication of Christopher Marlowe's translation of the first book of Lucan's Pharsalia. An up-and-coming Stationer who was to become one of the partners in the publication of Shakespeare's First Folio, Blount passed Thorpe the rights to Marlowe's translation. The dedication plays with the conceit of Blount taking on the role of Thorpe's patron through this act of generosity. Thorpe proceeds to instruct Blount on the correct etiquette for such a patron: 'First you must be proud, and think you have merit enough in you, though you are ne'er so empty.' The dedication also features the ghost of Marlowe prowling St. Paul's Churchyard, and doesn't refrain from making the inevitable pun on Blount's name: 'Blount,' it begins, 'I must be blunt with you.'
Despite his notable career in publishing, Thomas Thorpe seems to have fallen on hard times. The Stationers' Company Poor Book records him as receiving a pension from 1623 until 1625, which was likely the year of his death. However, his contributions to seventeenth-century English literature - and, unwittingly, to the tangle of popular conjecture around Shakespeare's identity and motivation - ensure that his name is not forgotten.

Final entry for Thomas Thorpe in the Stationers' Company Poor Book, 1625; Stationers' Company Archive Liber Computi Pro Pauperibus: The Book of Accounts of Moneyes Received TSC/1/G/01/04/07
References:
Crawforth, Hannah. " An introduction to Shakespeare's Sonnets", British Library. https://www.bl.uk/shakespeare/articles/an-introduction-to-shakespeares-sonnets. Accessed 19 May 2021.
Dautch, Aviva. "Shakespeare, sexuality and the Sonnets", British Library. https://www.bl.uk/shakespeare/articles/shakespeare-sexuality-and-the-sonnets. Accessed 19 May 2021.
Duncan-Jones, Katherine. "Was the 1609 Shake-Speares Sonnets Really Unauthorized?" Review of English Studies, New Series Vol. 34, No. 134 (May 1983), pp. 151–71.
Kathman, D. Thorpe [Thorp], Thomas (1571/2–1625?), bookseller. Oxford Dictionary of National Biography. Retrieved 20 May. 2021, from https://www.oxforddnb.com/view/10.1093/ref:odnb/9780198614128.001.0001/odnb-9780198614128-e-27385.
Rostenberg, Leona. "Thomas Thorpe, Publisher of 'Shake-Speares Sonnets.'" The Papers of the Bibliographical Society of America, vol. 54, no. 1, 1960, pp. 16–37. JSTOR, www.jstor.org/stable/24299632. Accessed 19 May 2021.