Knowing relatively little about West Dean College before I arrived, I was unprepared for just how stunning the campus is. A Gothic Revival mansion nestling in a vast estate on the South Downs, West Dean House provides an idyllic retreat where students can devote themselves to mastering their craft. And the students I met were certainly embracing the opportunity to do just that. West Dean offers specialisms in various fields of conservation, including ceramics, furniture and clock-making. Small class numbers and a secluded live-in campus encourage students from different disciplines to share their knowledge, and allows them to form vital professional connections.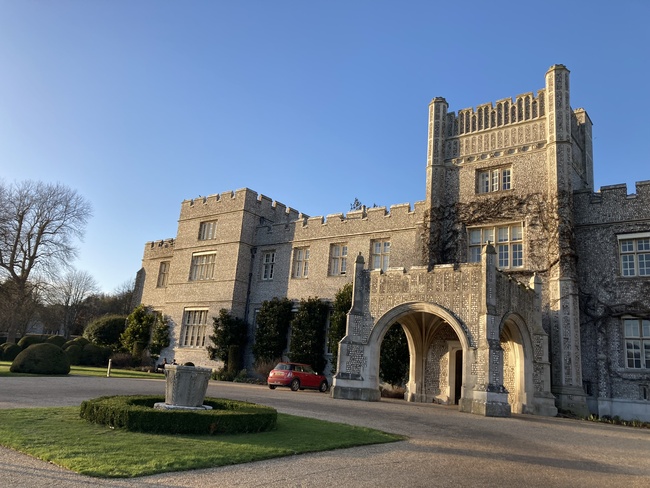 Main entrance of West Dean College
Naturally, I spent most time with Ana Cristina Garcia Perez, winner of a Stationers' Foundation Major Award to support her on the 2022/2023 MA Conservation Studies (Books & Library Materials). After lunch, Ana took me to see the facilities available to book conservation students. Purpose-built workshops and a fully equipped bindery offer students a thorough grounding in the techniques they'll need in their future professions. They first train on material donated from clear-outs of old businesses and collections, and with more experience they move on to commissioned work. This hands-on approach is an important element of West Dean College's programmes.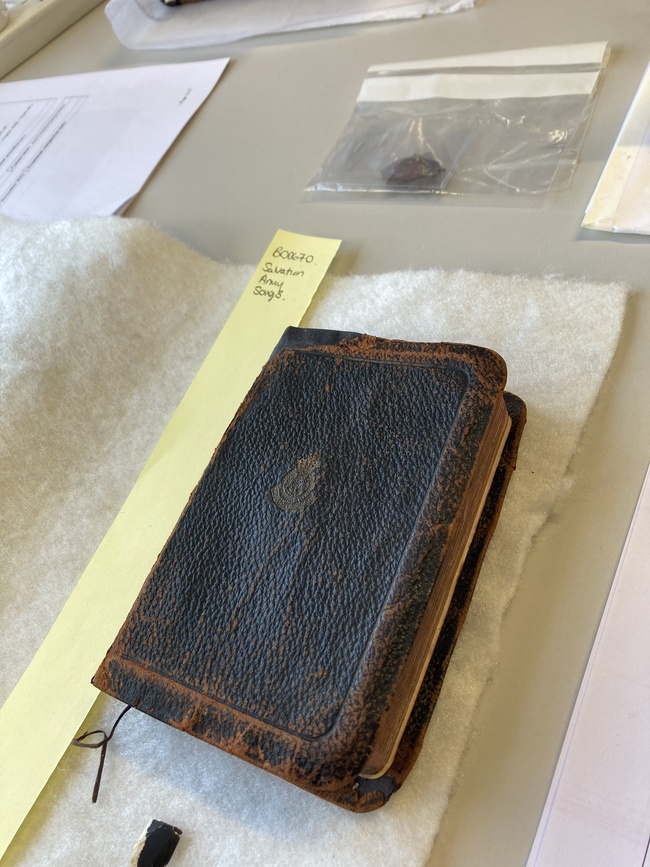 A Salvation Army hymnal which Ana is treating
Ana then showed me her studio space and some of the projects she's working on. As a Masters' student, she has been learning advanced techniques such as strengthening and repairing bindings, and creating conservation-grade bindings to replace lost originals where text blocks have become detached. Visiting expert tutors also instruct the students on binding techniques from different periods and traditions for their historic model project: by learning how these bindings are constructed, students acquire the expertise to recognise and address conservation needs. Ana clearly loves the creativity of this work, and is particularly proud of an example of Coptic binding she recently completed. On her desk lay the Gothic binding she's working on now – she plans to take it with her to complete while on her imminent work placement (six weeks at Cambridge University Library).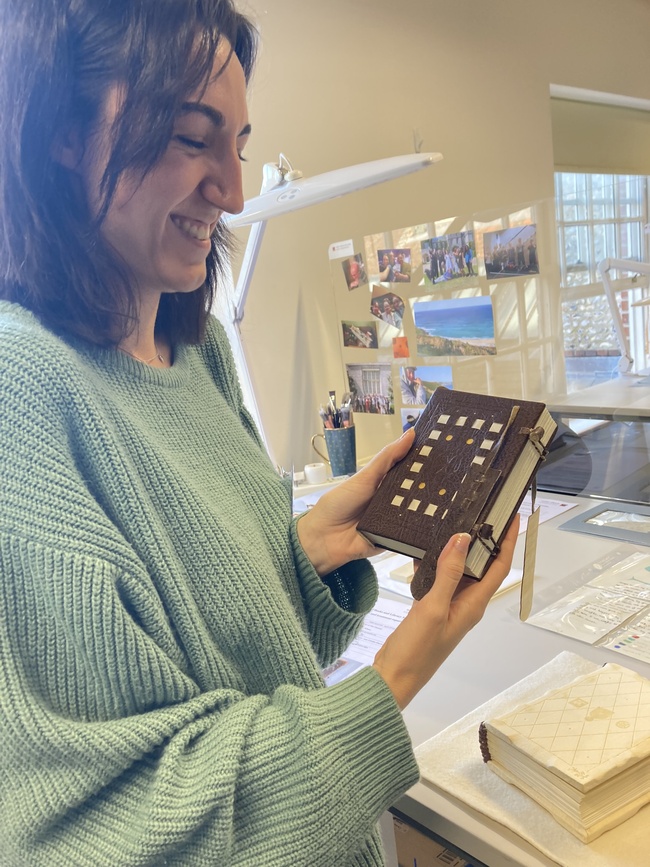 Ana holds up the Coptic binding she's completed. Her work in progress, a Gothic binding, is on the desk.
Talking to Ana and her fellow conservation students, I was inspired by the enthusiasm of this budding new generation of conservators. West Dean College is providing them with a first-class preparation for the work ahead, and the Stationers can feel proud of supporting this work.