The conserved book is a 1608 edition of A Book of Christian Prayer, commonly known as Queen Elizabeth's Prayer Book because the first edition, printed in 1569 by Stationer John Day, was allegedly dedicated to the monarch. It was designed as a Protestant equivalent of the traditional Catholic Book of Hours, and its intricate woodcut page borders teem with illustrations of the life of Christ, personifications of the five senses, and the inevitable Dance of Death. The 1608 edition is the fifth and final quarto edition.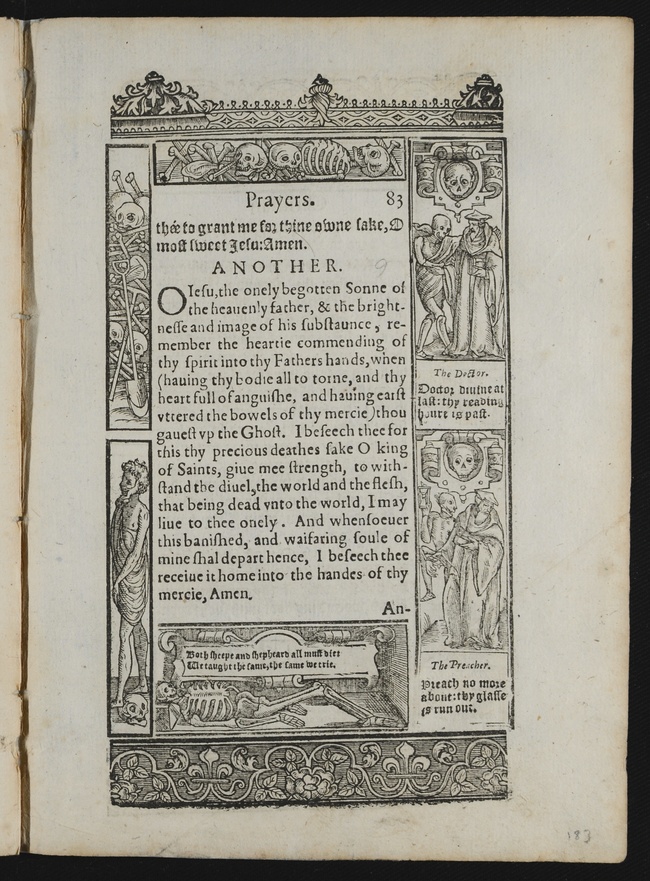 The copy held by the Stationers' Company Library & Archive was in extremely poor condition before its journey to the conservation studio. At some point considerably later than its printing, it had been bound in a cover of wooden boards and a leather spine. Since then, the text block had come loose of its supports, leaving the pages and fore-edge exposed to tearing and surface deterioration. It was impossible to handle the book without risking further damage.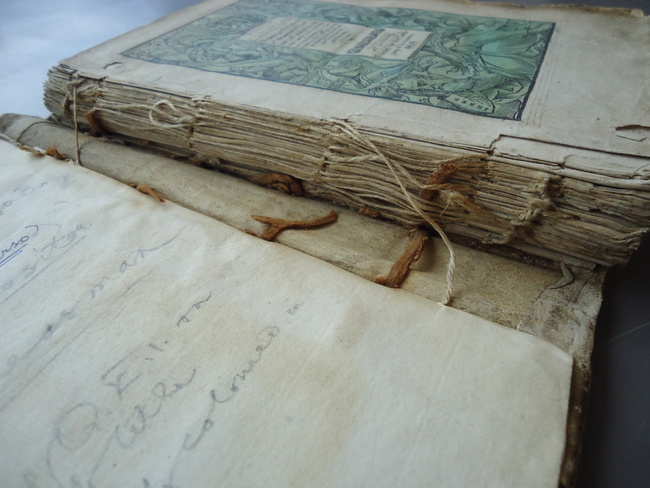 Photograph of the prayer book before conservation
Thanks to a grant generously provided by the Stationers' Hall Charity, we commissioned the National Conservation Service to address these problems. The work was beautifully executed by two of the NCS conservators, Madeleine Marshall and Jolanta Tursa. As the conservator in charge of the bench work, Maddy's tasks included cleaning and flattening the pages, and using Japanese tissue paper to repair tears and strengthen the leaves. The cover of our copy wasn't original, so she replaced it with a new limp cover of flax paper, sewing the text block in with archival thread. She retained the old cover and thread as archival artefacts, and returned them to us, along with the newly bound and restored book, in a bespoke archival box.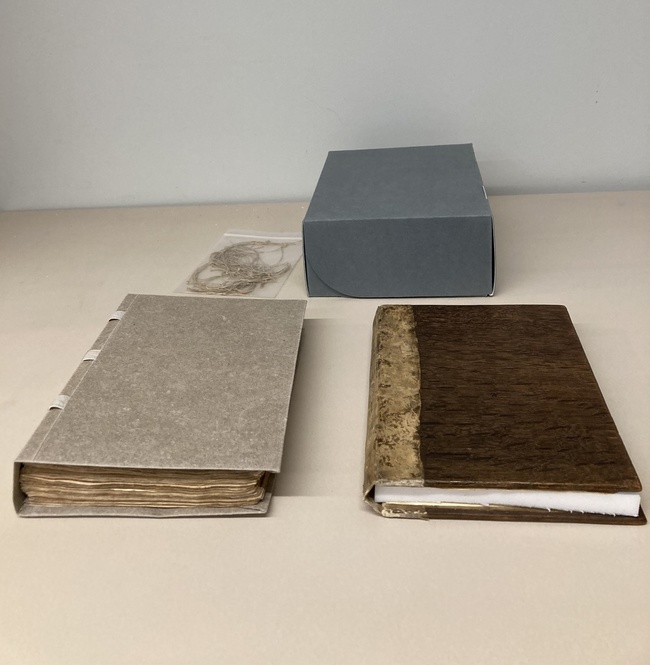 Clockwise from top left: the threads used to sew the text block to its old cover; a bespoke archive box to protect the restored volume; the old cover, held in shape with card; the restored book in its new flax paper cover
At last we have a book which can once more be read. And to further preserve this lovely volume, Jolanta digitised every page, reducing handling requirements for research, and also facilitating off-site access.